AHD Video Recorder
AHD (Analog High Definition) is the latest technology in the field of high-definition analog video. According to its characteristics and technological capacity it considerably surpasses existing analog video observation systems. This new technology allows to transmit video images, control and audio signals over a single coaxial cable at a distance of 500 meters without loss of quality and delays.
Capabilities of AHD Technology
Video images of a very high quality (resolution of 720p/1080p);
Reliable and inexpensive connection;
Laying of networks over long distances without loss of quality;
Quality video without delay;
Universal employment;
Existing system modernisation with no additional costs;
Compatible with all brands of equipment;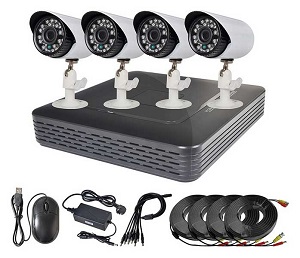 AHD Advantages over Analog technology
HD quality of images;
Transmission range without extra cost;
AHD Advantages over IP
Lower price;
Easy setup, no special skills required;
No need to to lay a new cable
AHD Advantages over CVI
Lower prices of cameras and video recorders
AHD (Analog Hight Defenition) video recorder is the latest hybrid multifunctional device which allows recording videos in different formats: CCTV, AHD, IP. It operates in three modes, more specifically, the three types of cameras: IP cameras, standard analog D1/960H cameras and 720p AHD cameras. When motion is detected AHD video recorder can send alarm messages by e-mail and make data archiving to a remote FTP server. All these features, as well as high reliability and low cost allow AHD video recorder compare favorably with other devices on the market of recording and processing devices.